The Galaxy D12 is the hardest working drum sander in the industry.
Galaxy Floor Sanders are known for their aggression and extremely powerful motors, and the D12 is a perfect example of this.
The D12 allows you to tackle any hardwood floor surface with confidence that you will see the most productive and efficient results.
New angled slot drum for chatter-free sanding
Variable drum pressure control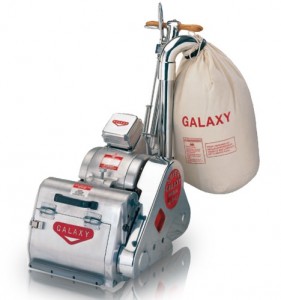 Motor Data
5 HP 240v 50 Hz single phase
20 Amps, 1750 RPM
Air cooled, permanently lubricated bearings
Capacitors: 2-starting, 1-Running
Tension Roller
Self Aligning & externally adjustable tracking while machine is operating.
Upper tension roller is easily removed for maintenance.
Drum
Electronically balanced
7.4″ diameter
Speed – 2300 RPM
Chassis &
Components
Polished premium quality alloy
Pressure Control
Infinitely adjustable
Dust Control
Vacuum Fan – 7,300 RPM, 450 CFM
Dustless swivel elbow – fitted with double "slide seals"
Heavy Duty sanding bag; Clean-out side cover
Drum Control
Lever Action – feather or grip handle
Wheels
Tough solvent resistant, polyurethane
Metal available
Extra 2 front wheels
Cable
100 ft 12'3 rubber coated, non-marking
Abrasive Sizes
29.5 x 7.875 cloth belts
Weight
Net – 107.51 kg; Shipping – 138.35kg