The Galaxy Eagle 8 is one of the newest and most innovative concepts in floor sanding machine technology.
The Eagle 8 is a 8″ combination machine that contains a belt sander for the finest finish, but also a hard-plate sander for rough and aggresive cutting.
Realizing the need that many craftsmen had, Galaxy developed the Eagle 8 with the purpose of creating a floor sanding machine that would help to completely eliminate chatter marks or undercuts on any type of grain.
The beauty of the Eagle 8 is that all you need to do to create the ultimate finish is simply slide in the hard-plate attachment, and install a longer sanding belt. In literally minutes you can change from belt mode to hard plate mode saving you both time and money.
The Eagle 8 is the ultimate machine for multi-species inlays and all wood floors.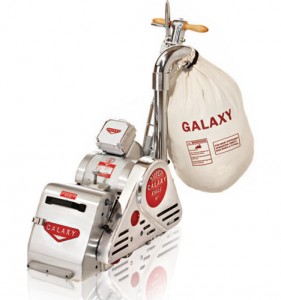 Motor Data
5 HP 240v 50 Hz single phase
20 Amps, 1750 RPM
Air cooled, permanently lubricated bearings
Capacitors: 2-starting, 1-Running
Tension Roller
Self Aligning & externally adjustable tracking while machine is operating.
Upper tension roller is easily removed for maintenance.
Drum
Electronically balanced
8″ Models – 7.4″ diameter
Speed – 2300 RPM, North American
Speed – 2100 RPM, Overseas
Chassis &
Components
Polished premium quality alloy
Pressure Control
Infinitely adjustable
Dust Control
Vacuum Fan – 7,600 RPM, 320 CFM
Dustless swivel elbow – fitted with double "slide seals"
Heavy Duty sanding bag; Clean-out side cover
Drum Control
Lever Action – feather or grip handle
Drives
Poly groove belt pulley system
Wheels
Tough solvent resistant, polyurethane
Metal available
Cable
100 ft 12'3 rubber coated, non-marking
Abrasive Sizes
29.5 x 7.875 cloth belts
33 x 7.875 cloth belts (hard plate mode)
Hard Plate Mode
Heat resistant backing material and long wear graphite
Weight
Net – 104.33 kg; Shipping – 131.54kg